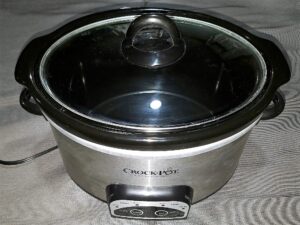 I'm a fan of using slow cookers.  It's nice for cooking something slow all day or for parties to keep things warm.  For parties I've kept mac n cheese, BBQ meatballs, pulled pork, and taco filling warm. Some don't have the warm option and that's an option that I must have.
This one also goes to warm automatically after cooking which is nice if you are getting home a little later than expected.
My slow cooker is from Crock-Pot (brand) and in addition to having the warm button the stoneware is removable and dishwasher safe so cleanup is easy. Mine doesn't have the locking lid but I think it's a great idea especially for those times you need to make something and take it to a party in the slow cooker.