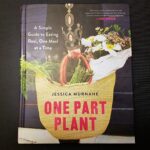 I've been trying to eat more veggies and when I was offered this book if I'd do a review the answer was an easy YES!
The suggestion and request of the author, Jessica Murnane, is to start with just one plant based meal each day.  Jessica switched to a plant based diet to manage symptoms and avoid surgery for endometriosis and while it includes information about this it's not specifically what the book is about.  Recipes use ingredients without gluten, and if you look at the calories in many plants we eat you'd probably see how this could help you to lose weight but it's not a diet book either. The book is really "A Simple Guide to Eating Real, One Meal at a Time".
Includes a lot of good information for anyone interested in eating more veggies, fruits, seeds, nuts, and grains.  The section on pantry items has good information, some that I didn't know and good ideas on ways to use these ingredients which I really enjoyed reading.
There's a nice variety of recipes so I'm sure there will be some you will like.  There are many that I'll be trying.  You can view the table of contents and index through Amazon before buying to get an idea of what recipes are included.
Want to know more?  Below is more information about One Part Plant, where you can buy it, and how you can connect with Jessica online.
Shawn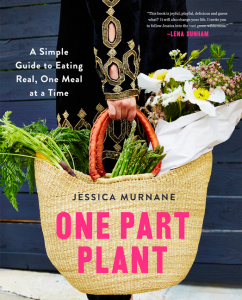 About One Part Plant
• Hardcover: 256 pages
• Publisher: Harper Wave (February 21, 2017)
"This book is joyful, playful, delicious, and guess what? It will also change your life. I invite you to follow Jessica into the vast green wilderness." —Lena Dunham
Wellness advocate and podcaster Jessica Murnane is the friend you never knew you had. And she's here with a cookbook to help you make a change you never thought was possible.
In One Part Plant, Jessica has a friendly request: that you eat just one meal plant-based meal each day. There's no crazy diet plan with an anxiety-inducing list of forbidden foods. Or pages filled with unattainable goals based on an eating philosophy that leaves you feeling hungry and deprived. Instead, Jessica offers you the tools to easily and deliciously make plants the star of your plate–no matter how much junk food occupies it now.
Jessica knows what it's like to have less than healthy eating habits. Just a few short years ago, her diet consisted of three major food groups: Sour Patch Kids, Diet Coke, and whatever Lean Cuisine had the most cheese. But when her endometriosis — a chronic and painful condition — left her depressed and desperate for help, she took the advice of a friend and radically overhauled her diet. Within months, her life dramatically changed — her pain started to fade and she felt like herself again.
With a unique style and playful tone, Jessica shares what she's learned on her way to healing her body through food. She keeps it simple and, most importantly, delicious — with 100 allergy-friendly recipes like Creamy Mushroom Lasagna, Easy Vegetable Curry Bowls, Triple Berry Skillet Cobbler, and Chocolate Chunk Cookies.
Featuring her top ten pantry basics, practical advice, and colorful and bold photography, One Part Plant is an inspiring and educational guide to eating real and feeling your best.

Purchase Links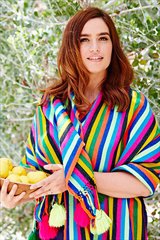 About Jessica Murnane
Jessica Murnane is a wellness advocate, podcast host, and creator of the One Part Plant movement. She has a certification in Plant-Based Nutrition from the T. Colin Campbell Center for Nutrition Studies and works to raise awareness for endometriosis and women's health issues. Jessica has contributed to and appeared in countless magazines and websites, including Mind Body Green, The Coveteur, Food 52, PopSugar, and Chalkboard Magazine and has spoken at Apple and Taste Talks. She interviews some of the biggest names in food, lifestyle, and design on the popular One Part Podcast. Through her website (jessicamurnane.com), classes, and restaurant partnerships, she's working to get everyone on this planet to start eating one plant-based meal each day. She lives in Charleston, South Carolina with her husband, son, and lots of palm trees.