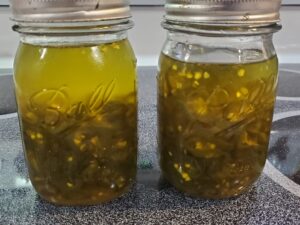 This is my work in progress as I try differences in spices, with/without salt, and sugar/vinegar/water(if any) ratios to see what I like best. Once it's no longer a work in progress, this page will no longer have the text you are reading.
The recipe below will give you an idea of what I'm trying but this is in no way finished. Once it is I'll update here with results and remove this info.
I compared a lot of variations of the ingredients for Cowboy Candy and tried a number of variations to decided what I like best. I also wanted a recipe that will have extra jalapeno flavored juice that I can add to say a BBQ sauce or use for basting when grilling or whatever else I can come up with.
I tried with and without salt. I can't tell any difference with or without salt so I'm not adding any salt.
This recipe should make about 2 pints (or 4 half pints).