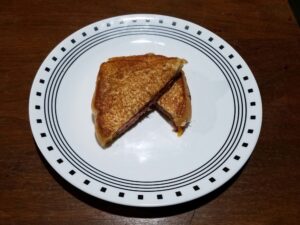 Here's another variation on a grilled cheese sandwich that is good.
First mix 1 tsp of mustard and 1 tsp of honey together in a small container to make the honey mustard.
Butter one side of bread and put it in a pan over medium heat with the buttered side down. Place a slice of cheddar cheese on the bread followed by a couple slices of ham.
Spread butter on one side of the remaining piece of bread and honey mustard on the other side and place in the pan on top of the ham honey mustard side down.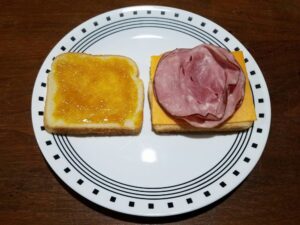 If you prefer you can assemble it separately. It's not too important as long as the buttered sides are out and everything else is in between the bread.
Once the pan side of bread is nice and toasted flip and cook until the other side is toasted. By this time the cheese will be nice and melted too. Remove from the pan, plate the sandwich and enjoy.