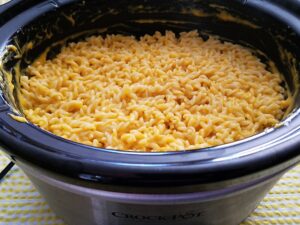 This is an easy upgrade to Kraft Macaroni and Cheese (blue box) or other brand Mac and Cheese to make the best boxed mac and cheese ever.
For parties, cookouts, and picnics it's hard to go wrong with pasta and cheese and many will even think this is homemade.
With this recipe you can easily and quickly make up to four boxes and keep it warm in a slow cooker (crock pot).
Adding shredded cheese is the main improvement and extra ingredient but it's also the process that keeps the pasta from being overcooked (we won't prepare this according to package instructions). Many guests won't realize you started with boxed Macaroni and Cheese. Not only is this economical but adults and kids will both like this.
This can be a great way to use left over cheese. I've used cheddar, fiesta mix (Mexican mix without spices), a mac n cheese mix one store had, and Velveeta (processed cheese) is really good too!
This is how I make four boxes for a party in two batches. This is enough to fill my Crock-Pot slow cooker and since the slow cooker has a warm option it makes it easy to keep warm for a party.
The directions are simple enough that you should be able to understand how to do this for just one box of mac n cheese if you want. It's easy, use one box of Mac and Cheese making it according to the package, taking it off the stove/heat and mixing in 1/2 cup shredded cheese and 1/8 cup milk (2 tbs). If you add the shredded cheese when the sauce is too hot it will get stringy so take the pot off the burner first.
Use any brand of boxed Mac and Cheese you want. I prefer Kraft Mac and Cheese and some store brands that no longer contain artificial flavors, artificial dyes, or preservatives.
I use an 8 qt pot with a strainer insert. This is so I can make one batch after another without having to heat water for the next batch.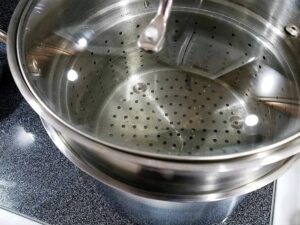 Here's a pic of the 8 qt multi pot I use for cooking the pasta. I would do a review for it but it was a store brand (Linens and Things) which is no longer. I don't know who made this. There are plenty of these available by many brands.
Make the pasta
First I put water in the pot maybe 1 1/2″ from the top of the pot (not the top of the strainer) and add four or so shakes of Goya Adobo All Purpose Seasoning with Pepper and bring the water to a boil.
Open two boxes of Mac and Cheese. Put the pasta in the boiling water and cook the pasta for the amount of time indicated on the box.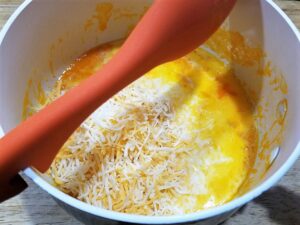 Making the cheese sauce
Make the cheese sauce while the pasta is cooking. The box will indicate how much milk and butter to use. Put this in a pan with the powdered cheese and heat over medium-low to medium heat. Stir frequently. You want to heat it to the point the butter is melted and it's fully combined. Next remove it from the heat and add 1 cup of shredded cheese and 1/4 cup of milk. Mix together and set aside for now.
Putting it all together
Once the pasta is done pull the strainer out of the water to drain the pasta.
Pour the pasta into your slow cooker. Pour the cheese sauce over the pasta and mix.
If you need to make another batch of two boxes just repeat using the already hot water.
Keeping the mac and cheese warm
Remember to put the slow cooker on warm. You can do that a little in advance if you want.