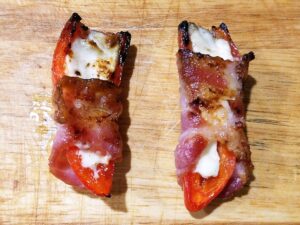 Jalapeno peppers stuff with cream cheese and wrapped in bacon AND grilled. I like this much better than the breaded, stuffed, and fried jalapenos peppers. and think it's healthier too even with the bacon.
I grow my own jalapeno peppers and let some ripen so they are red.  I find the taste is sweeter and the heat is less though the heat varies and I've had some really hot red jalapenos.
This is easy to make.
First cut the top off your jalapeno and cut it in half lengthwise.  If it's particular big you could quarter it or cut 1/3 off and then cut the 2/3 left over in half.
Remove the seeds and ribbing.  This will reduce the heat some and make a place for the cream cheese.
Fill the pepper with cream cheese.
Wrap in bacon.  You want a good part of the opening filled with cream cheese to be covered by the bacon otherwise the cheese might fall out.  If using a fatty pork bacon it will stick to itself otherwise you can use a tooth pick that has been soaked in water to hold the bacon on.  Just wrap the bacon around and use the tooth pick down the side to hold it together.
Next grill over medium to high heat starting with the open side of the jalapeno first.  Once the bacon is cooked flip and finish the other side.  Watch closely and move them if there are any flareups otherwise they will burn.
It should be possible to bake or broil these.  I'll post info once I test this myself.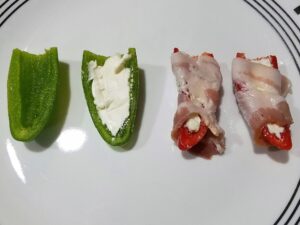 The pic to the side shows the a jalapeno ready to be filled, one filled, and two wrapped in bacon ready to be grilled.