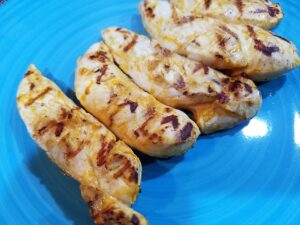 I've been making this buffalo ranch marinade for years.  I usually marinate chicken tenders (chicken fingers) in it.  Could use chicken breast, chicken thigh, or chicken wings.  I sometimes cube up chicken and marinate to make kebabs.
My inspiration for this came from The Cove in York PA.  It's gone through some owners and at least one name change over the years but is called The Cove currently.  Back in the day a group of friends would hang out there and some worked there too.  They had a wing and drink special on Thursdays which was always nice cause any Thursday you could go and there would be someone you knew.  Some years later I was looking in my fridge for something to marinate some chicken in and I remembered someone saying the wing sauce had some ranch in it at The Cove.  I don't know what else it may have had but I had some ranch sauce.  And I had some Frank's Red Hot sauce.  I mixed the two until it was what I thought was a good color.  Not very scientific and not by taste either.  Marinaded the chicken and grilled it up.  I haven't changed this recipe since then and here's how you make it.
How to make the marinade
Mix the hot sauce and ranch dressing together in a bowl or small container.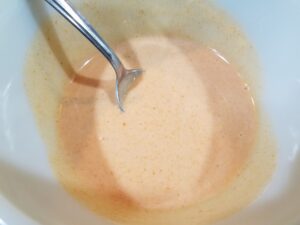 Marinade the chicken
Put the chicken in a container or zip lock bag and pour the marinade over top.  If using a zip lock bag close it up removing most of the air and give it a little massage to get the marinade over all the chicken.  If using a container just flip the chicken so both sides have marinade on them.
Marinade in the refrigerator for 3 hours or overnight.  I usually do this overnight.
Time to grill!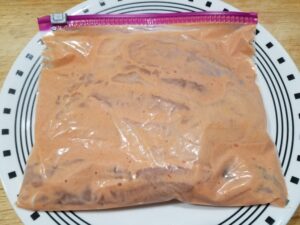 When you are ready to grill remove the chicken from the container letting excess sauce drip off. Grill on a
clean and preheated grill until cooked through.  Somewhere around 5
minutes per side depending on how hot the grill is.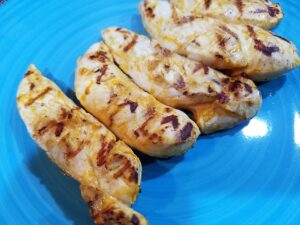 That's is.  Hope you enjoy them as much as I do!
If you want a little more heat you can easily use more hot sauce or add a little bit of a hotter sauce or even some sriracha.  Lots of options.