Greek Chicken Souvlaki or chicken kebabs is meat and maybe vegetables on a skewer that is grilled.
Years ago a local grocery store carried this already marinated and ready to grill. I fell in love with it. When they closed I had to figure out how to make it myself and that's how we got here.
This recipe is super easy and tasty! It also uses a favorite spice mix of mine – Cavender's All Purpose Greek Seasoning.
How to make chicken souvlaki
This makes enough for one to two people or more if used as an appetizer.
Want to make more? Use more chicken and multiply the ingredients as needed.
If you are using wood skewers soak them in water for 30 minutes before using them so they don't burn up on the grill.
Chicken souvlaki marinade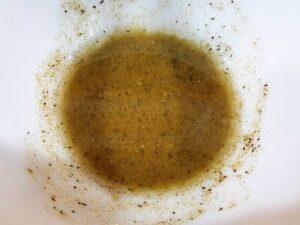 To make the marinade combine olive oil, lemon juice and spice mix in a small container and mix together well.
Cube the chicken and mix with the marinade. Marinate in the refrigerator for at least 4 hours or over night.
Okay, so I HAD a picture of the chicken marinading but apparently deleted it.  So, until I get a pic imagine succulent cubes of chicken swimming in a dish of tasty marinade.
Done marinating?  Let's grill!
Time to grill!
Put the chicken on the skewers.  I put them close so they will cook just a little slower on the grill allowing more time to get them caramelized a little more.
Your grill should be clean and preheated.
Grill each skewer for about 5 minutes on one side and then another 5 minutes on the other side until the chicken is cooked.  Time will vary based on the size of the cubes of chicken and hot hot your grill is.
Time to eat.  You can wrap them in aluminum foil if you need to keep them for a little until you are ready to serve them.
Note:  You could use vinegar instead of the lemon juice as the acid but I recommend using lemon juice.