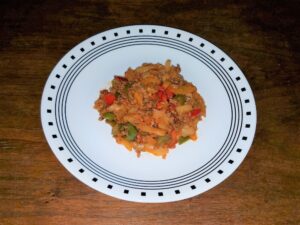 This Chorizo Sausage with Peppers and Onions recipe is easy, simple, low carb, and tastes good.
If you aren't watching carbs you could definitely put this in a nice roll.
Don't like onions? Use a pepper mix instead of pepper and onion mix and you'll have Chorizo and Peppers.
The peppers and onions cook in the fat released from the chorizo sausage which has lots of flavor.
My directions are for a single serving or two small servings. If you want more just increase the amount of chorizo and peppers/onions you use.
I use a frozen mix of peppers and onions for convenience. Fresh would be good too and would cook a little quicker.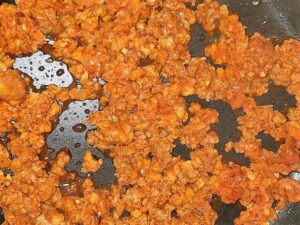 First you cook the chorizo on medium high heat for about 2-3 minutes until it starts to release some fat. Make sure the pan is big enough to allow adding the peppers and onions and be able to stir them easily enough. If possible don't break it up into pieces smaller than 1/4″ to 1/2″. I think the mouthfeel is better if you don't break it into really small pieces like you were making tacos. This seams easier with the chorizo you get in a casing versus the chorizo that isn't. If your chorizo is in a casing remove it first by cutting down the side and pulling the casing off.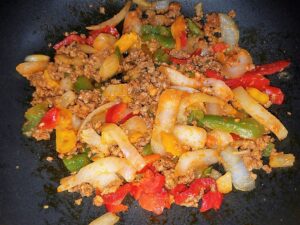 Next add 2 cups of peppers and onions and stir occasionally until the chorizo is cooked and the onions are soft and translucent. The pic below is right after I added the peppers and onions.
This is what it looks like when it's done and ready to eat!