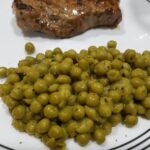 Sweet peas are healthy though not exactly low carb.
Growing up I never liked sweet peas.
I think it was because they were overcooked and mushy. If you didn't like them either try them like this. The salt and butter helps with any bitterness and brings out the sweetness. It's a common way to make them but it's important to not overcook them and use salt and freshly ground pepper, and real butter. Please don't use the already ground pepper, it's not as good in this recipe.
Canned sweet peas are already cooked. You want to warm them up without cooking them more than they are already cooked.
Open the can of peas and drain off the liquid.
Put the peas in a microwave safe bowl. Add the butter and microwave for about 1 minute or until they are hot.
Stir and season with salt and freshly ground pepper and serve.
Tip for making them even better. Serve with a side of steak!