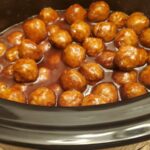 Grape Jelly Barbecue Meatballs are a perfect appetizer and easy to make with only three ingredients. The best part is once they are made you set the slow cooker (aka Crockpot) on warm and enjoy your party!
I like to use Sweet Baby Rays Sweet N Spicy BBQ Sauce for this recipe or a mix of that and one that isn't spicy. You could use a name brand like Welch's grape jelly or Smucker's but I'd save some money and get whatever is economical and on sale. You can also use apple jelly instead.
This recipe uses frozen fully cooked meatballs. You can thaw them in advance or not. Thawing in advance is nice if you don't have two hours to wait. Often I don't have much time before a party and I want them ready in time. If using a microwave to thaw the meatballs be sure to use the thaw/defrost setting and don't over do it. You just need them to the point of no longer being frozen. Even better you can put them in the refrigerator the night before and let them thaw out.
Worried you might run out of meatballs for your party?
If you aren't sure how much you need for a party you can have an extra bag of frozen fully cooked meatballs in the freezer and a extra BBQ sauce and if needed jelly on hand. If you run out you can thaw the frozen meatballs out in the microwave which doesn't take long and add them to the slow cooker. You don't have to thaw the whole bag either just thaw what you want.
What can you do with leftovers?
You can freeze any leftovers, make sandwiches with them, could even make a pizza by spreading the meatballs and barbecue sauce on pizza dough and topping with cheddar cheese or a mix of cheddar and mozzarella.
What type of meatballs can I use?
Any style of meatballs that are precooked will work. I use inexpensive frozen homestyle or italian style meatballs from the grocery store though you could use homemade meatballs if you want.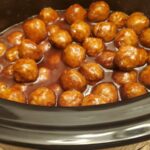 Print Recipe
Slow Cooker Grape Jelly BBQ Meatballs
This is a favorite at parties I have. I prefer a ratio of 2 parts BBQ to 1 part jelly. I like to use a sweet and spicy BBQ sauce but use what you like. You can use equal parts of BBQs and jelly or whichever ratio you prefer.
Ingredients
2

lb

bag frozen fully cooked meatballs

(If desired thaw overnight in refrigerator or in microwave)

18

oz

bottle of BBQ sauce

I like Sweet Baby Rays regular or sweet and spicy

9

oz

grape jelly

(half of an 18oz jar of grape jelly or use the entire jar if you prefer)
Instructions
If using frozen meatballs
Put frozen meatballs, BBQ sauce and jelly in a slow cooker set to high.

Cook on high for about 2 1/2 hours or until hot, then set the slow cooker to warm.
If using meatballs already thawed out
Thaw meatballs overnight in the refrigerator OR thaw in microwave using the defrost setting. Be careful to not overdo it and start cooking them in the microwave.

Add meatballs, BBQ sauce, and jelly to a slow cooker set on high for around 45 to 60 minutes or until hot, then set the slow cooker to warm.
Notes
I like to use Sweet Baby Rays sweet and spicy BBQ sauce for this even though it's not my favorite by itself. Use whatever you want. All that matters is you like it!
The frozen meatballs should already be precooked.
If you are short on time you can thaw them in the microwave. Directions are provided for either way you decide to make them.
What could you use instead of grape jelly?
Apple jelly
Red currant jelly has a similar sweet-tart flavor as grape jelly and can be used as a substitute in the recipe.
Cranberry sauce adds a sweet-tart flavor that pairs well with BBQ sauce
Apricot preserves can be used as a substitute for grape jelly, adding a fruity sweetness to the meatball sauce.
Pineapple preserves: Pineapple preserves can add a tropical twist to the meatball sauce, complementing the BBQ flavors.
Sweet chili sauce