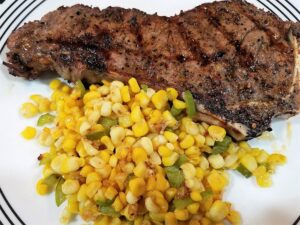 When making steak at home McCormick Grill Mates Spicy Montreal Steak is my go to seasoning.  This really gives steak some spicy flavor.
Oddly I only like this on steak but I like it a lot on steak.  It is a little spicy so if you don't like a little heat this isn't for you.
They have a non spicy version which I haven't tried.
According to the label the ingredients are: Salt, Spices (Including Black Pepper And Red Pepper), Garlic, Sunflower Oil, And Extractives Of Dill And Paprika.