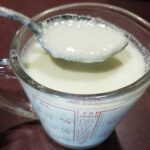 Sour milk is easy to make. Sour or Soured milk is milk that either has acid (vinegar or lemon juice) added to it or has gone sour and is now fermented milk. It would take sitting out overnight for it to ferment so instead this recipe uses an acid because who has a day or so to wait for it to ferment when you have a recipe to make?
Buttermilk Substitute
Sour milk can be used as a substitute for Buttermilk. While not exactly buttermilk (won't taste exactly the same) it will have the acidity that a recipe may require especially for baking. Remember what happens when you combine baking soda with an acid? (think science project volcano) Recipes with baking soda or baking powder that call for sour milk or buttermilk need the acidity to rise.
How to make 1 cup sour milk
To make exactly 1 cup of sour milk put 1 tablespoon of vinegar or 1 tablespoon of lemon juice in a measuring cup and fill it up with milk until you get to the 1 cup mark. Give it a stir. I recommend using whole milk or 2% milk and white vinegar. I've read heavy cream can be used but it's expensive for one and would have more milk fat than a recipe was likely designed for.
Let the mixture sit for 5 minutes so it can become soured and it's ready to use.
NOTE!
IF you need the milk to curdle/thicken it should be room temperature or slightly warmed in the microwave on a low defrost setting. . I'm not convinced this is needed for baking recipes. Not being cold could throw a recipe off also. If I find otherwise I'll update this post.
How to make real homemade sour milk
This is how my grandma would make real sour milk.
Pour one cup of pasteurized milk or raw milk into a clean bowl, cup or glass and let it sit out overnight until it has gone sour. It will be thicker and have curdled bits in it.
No doubt this takes time but if you want real sour milk for baking this is the way to get it.
What can you make using sour milk?
Buttermilk pancakes or waffles
Buttermilk biscuits
Cakes and cupcakes. Sour milk can be used in cake and cupcake recipes, adding a subtle tangy flavor that pairs well with chocolate and other rich flavors.
Sugar Cookies (recipe coming soon!)
Breads. Sour milk can be used in bread recipes, helping to create a tender crumb and a tangy flavor.
Soups and stews: Sour milk can be used in creamy soups and stews, adding a tangy flavor while keeping the dish light and healthy.
Salad dressings: Sour milk can be used to make creamy salad dressings, adding a tangy flavor to the mix.
Still reading? Want to know even more? Check out Wikipedia.